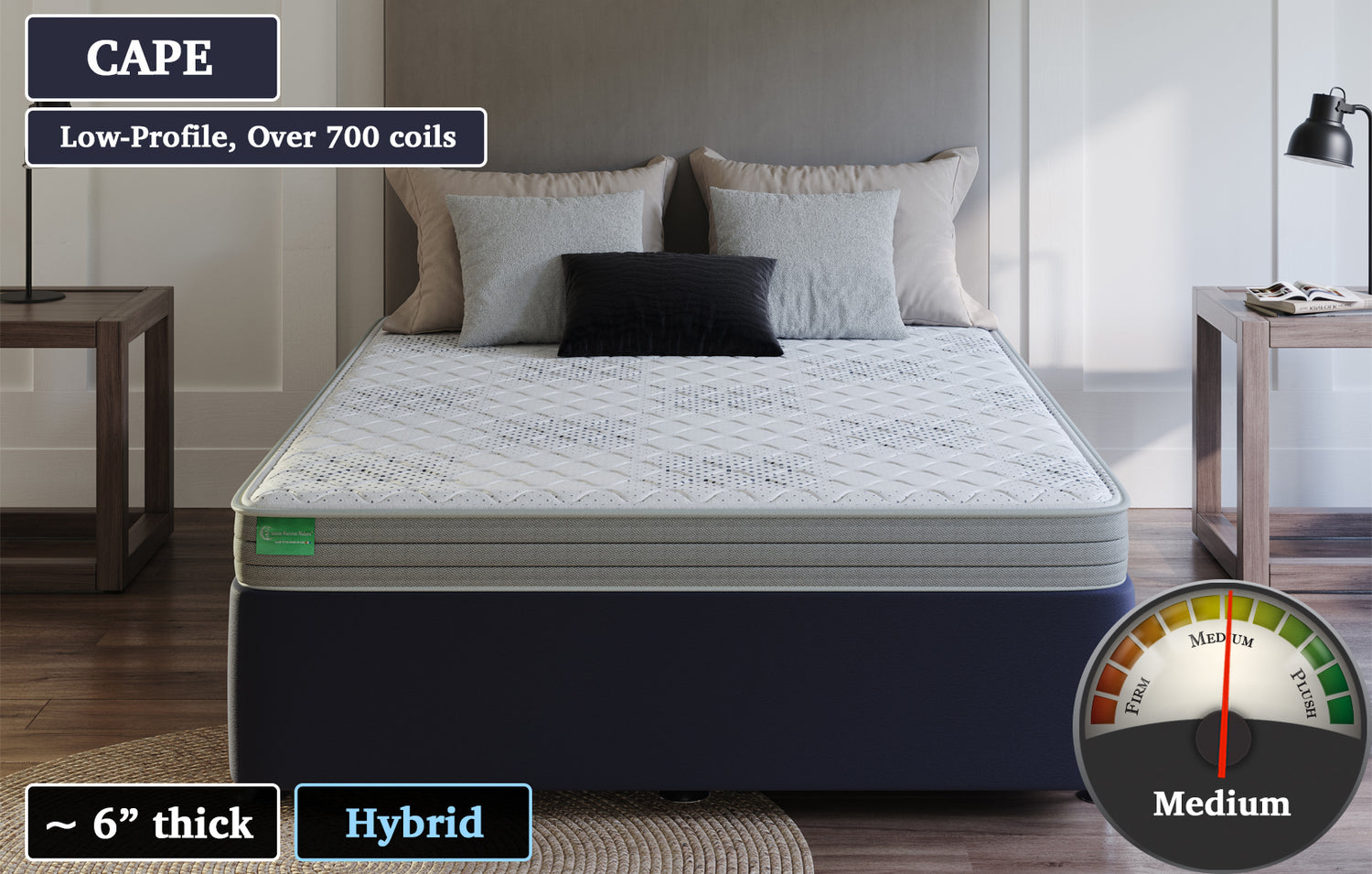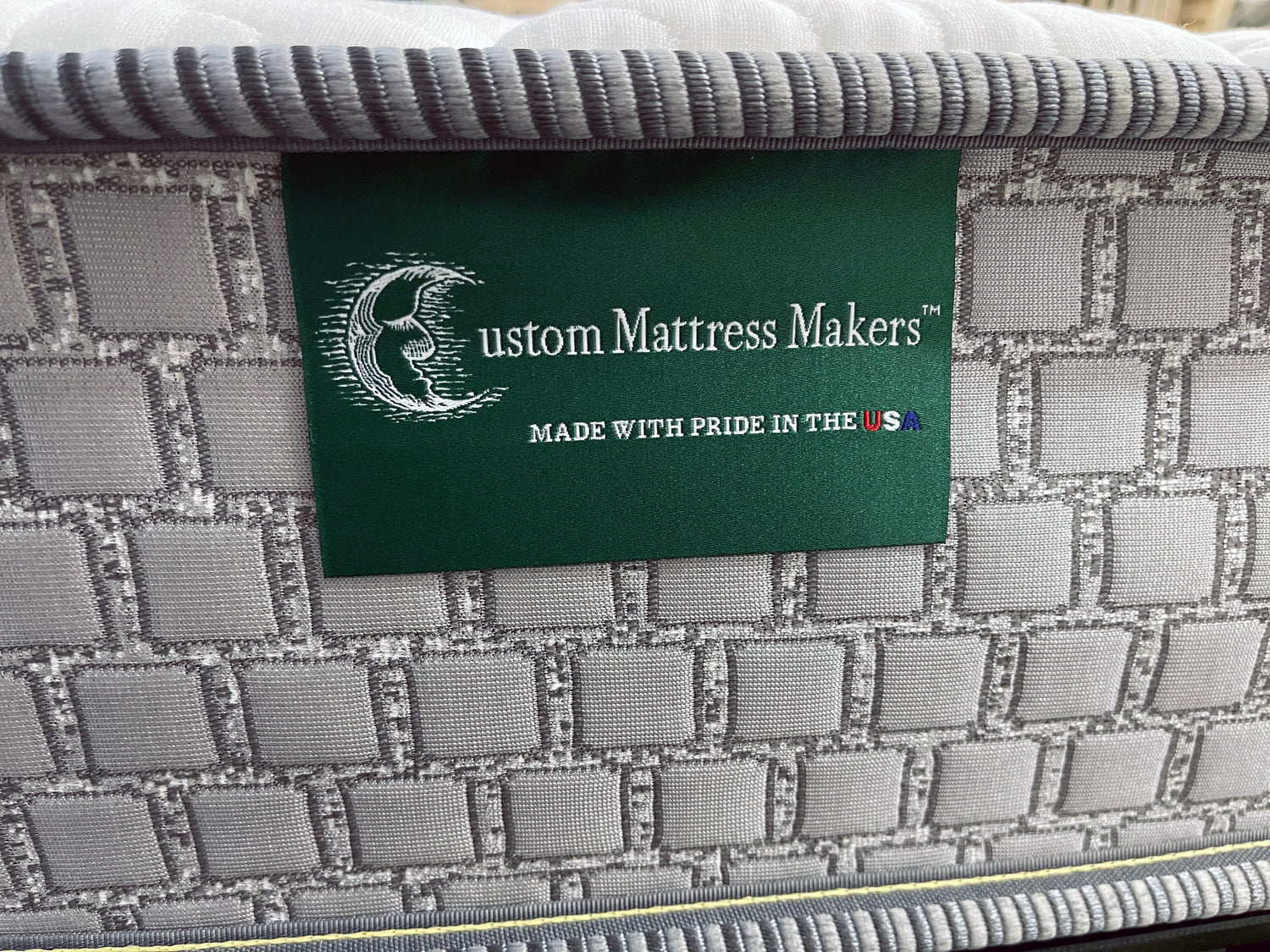 Cape - 6" Medium, custom mattress
Translation missing: en.products.product.regular_price $469.00 Sale
1. Choose your mattress dimensions from the drop-down menus below. The price above will change according to your size.
2. Once your size is entered, click "Add to Cart" button.
Cape mattress

"A medium comfort mattress with support from a steel coil system. A low-profile design allows this to fit where thicker mattresses can't. The flexibility of the materials allow it to bend easily and can even be used for a sofa bed mattress. Although this is one of our simpler models, it will outperform almost anything at this depth."
Firmness level:  Medium
Mattress thickness:  Approx. 6"
Coil System:  4" individually-wrapped.  774 coils in queen size.
Fabric:  Custom sculpted, circular knit with cotton & tencel fibers
Quilting:  .75" Gel-Cooling, Medium padding – 1.5 LB.
Upholstery:  .75" Medium-Firm upholstery padding – 1.8 LB.
Base Layer:  .75" Firm padding
FR 1632/33: 

 

Inherent Woven Rayon (made from wood), *no chemical sprays*
Adhesive:

 

Water-based, Solvent-free, ISO 9000, GREENGUARD Gold Certified
Maintenance:  Rotatable, No-Flip design
Warranty:  5 Year Non-Prorated
UPS Shipping:  FREE of charge


Please view important information at the bottom of this page relating to:




odd-size mattress variance

order changes and cancellations

100-Night Satisfaction Guarantee

shipping

HIGH-QUALITY COMPONENTS

Steel Support System



• 4", 'Low Profile Comfort Core' support system
• 15 gauge, tempered steel
• 774 coils in queen size
• coils are edge-to-edge, no foam encasement
• more durable and longer life span than foam only
• Made in USA by Leggett & Platt
What you'll notice:
Low motion transfer across the mattress. Less disturbance when moving around and switching positions. Coils provide strength and support where foam only cannot. Each coil compresses independently and conforms well to the hip and shoulder areas. Steel from edge to edge, no foam encasement.


Comfort Layer



High-density padding for durability & comfort

• .75" of medium-firm, 1.8 LB upholstery padding
• Heavier weight = higher quality
• CertiPUR-US Certified
• Made in USA



Quilt Layer

Custom-quilted top


• Cotton & tencel fibers w/integrated FR properties
• .75" of medium, 1.5 LB. Gel-Cooling padding
• CertiPUR-US Certfied
• All USA made materials


What you'll notice:
The Cape is a simple, yet strong design that provides a medium feel. For a 6 inch mattress, this is about as good as it gets. Life expectancy will well exceed foam only mattress designs. Ideal for setups that require a thinner mattress.


QUESTIONS?  We're here to help!
Email us
 

and we will get back to you quickly. 
Or, give us a call:

 

727-289-7205



PLEASE READ THE FOLLOWING IMPORTANT DETAILS ABOUT THE ORDERING PROCESS:
Odd/Custom Size Mattress Variance
Due to coil barrel diameters, all custom/odd-size mattresses are subject to up to a 1" variance in each direction.
As skilled as our builders are, it is almost impossible to construct a spring mattress to the exact dimensions of all size combinations.

 

Each coil spring has a predetermined diameter, therefore we are somewhat limited when it comes to the width and length of the mattress.  Since we cannot split a coil in half or thirds, we build the mattress to within a 1" variance of requested dimensions.
In most cases our mattresses are very close to perfect. However, these restrictions do exist and it is completely normal to see your mattress slightly smaller or larger than ordered.
On the Cart page, there is a box where you can request the mattress to be made "slightly undersize" or "slightly oversize". 
Find additional information about odd size variances 

HERE

. 




Policy Regarding Order Changes and Cancellations

Need to make a change to a mattress size?
Custom Mattress Makers allows for size changes

 

up to 24 hours after the order is placed.
In an effort to keep lead-times as short as possible, we start assembling materials as early as one day after the order is placed. After the build process has started, we cannot make any changes to the order.
If it is within 24 hours of the order being placed and you need to make a change, please reply to the order confirmation email or email us via the

 

CONTACT US

 

page.
Need to cancel an order?
Similar to the above policy, orders can be cancelled

 

within 24 hours of the order being placed. The purchase amount will be refunded,

minus a 2.7% processing fee

.
Due to the custom nature of our products, we cannot cancel an order after 24 hours have passed and the build process has already started.
If you're interested in cancelling an order and it is within 24 hours of the order being placed, please reply to the order confirmation email or email us via the

 

CONTACT US

 

page.


100-Night Satisfaction Guarantee
All mattresses purchased from the Custom Mattress Makers' website are eligible for the 100-Night Satisfaction Guarantee. This includes special sizes. For more information about how this program works, visit our webpage HERE.
Refunds are provided at no charge, up to 100 nights of the products delivery date. If this 100 nights is exceeded, eligibility for this program has expired and no refunds can be processed.


Shipping Information
Mattresses must be unpacked and removed from their plastic

within 2 weeks of delivery

. Longer than that could damage internal components, alter sizing and will void any product warranty.

All mattresses from Custom Mattress Makers are packaged via the "roll-packing" process. This process compresses and rolls the mattress into a carton that allows it to be shipped any physical street address in the continental USA. Feel free to read more about that process on our Shipping page HERE.

All mattresses are shipped via UPS, to the front door of the address listed as "shipping address" on the original order. Your new mattress will be delivered in the same fashion that any other UPS package would be delivered to your home or business.

Due to current UPS policy, old mattress and boxspring removals are not available at this time.
*This mattress is available in all of the following common sizes: Twin, Twin XL, 3/4 (three quarter), Full (double), Full XL, Queen, King and California King.

*It is also available in other less common sizes: RV (short) Queen, Split Queen, Split King, Split California King, Olympic Queen, Super Single waterbed, Queen waterbed, King waterbed and many more. To view our mattress size chart, click HERE.
*Is your mattress not a perfect rectangle? Do you have an angled corner or one side longer than the other? Or perhaps you need corners cut out to fit around best posts? Click HERE to send us an email.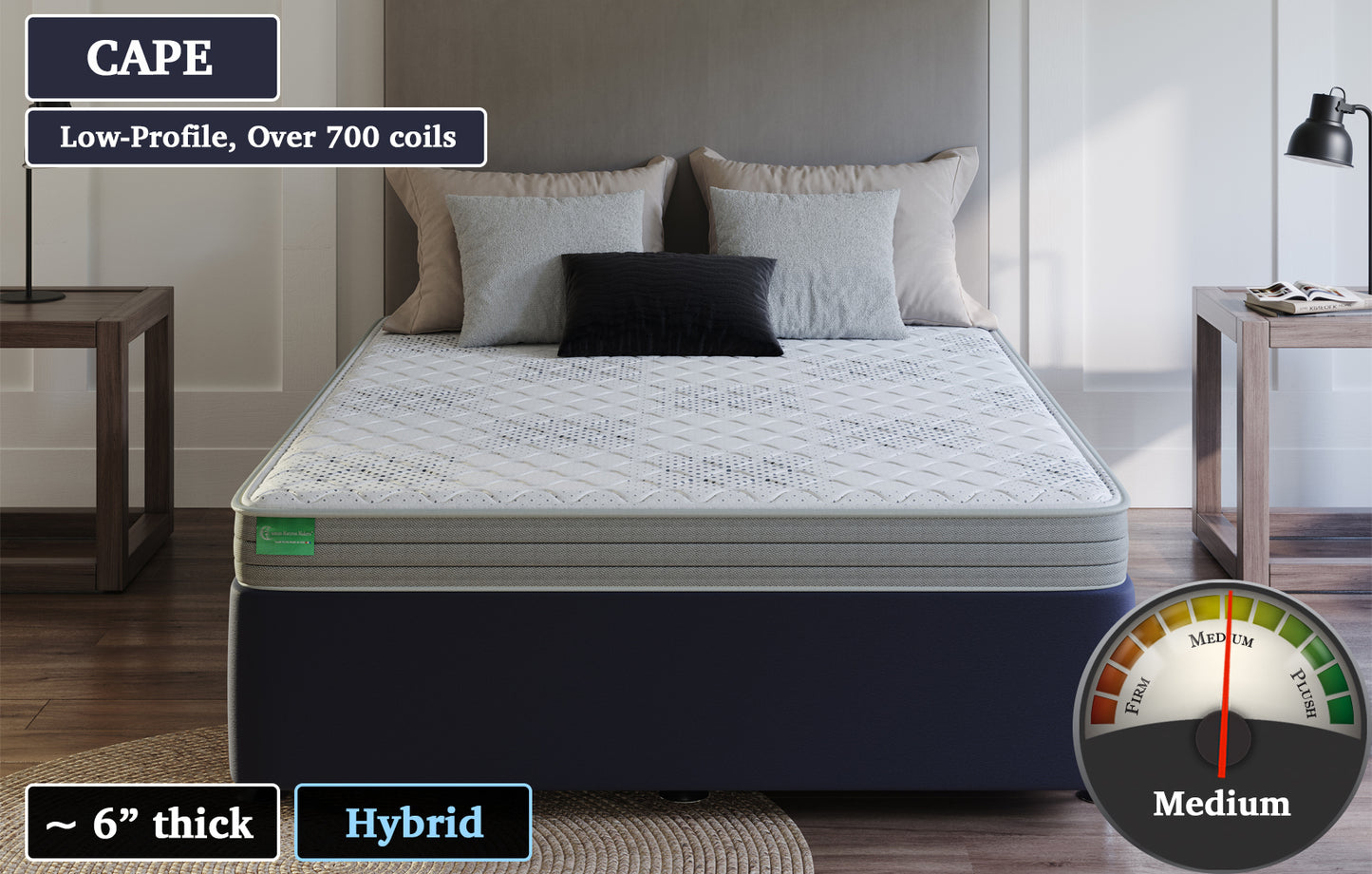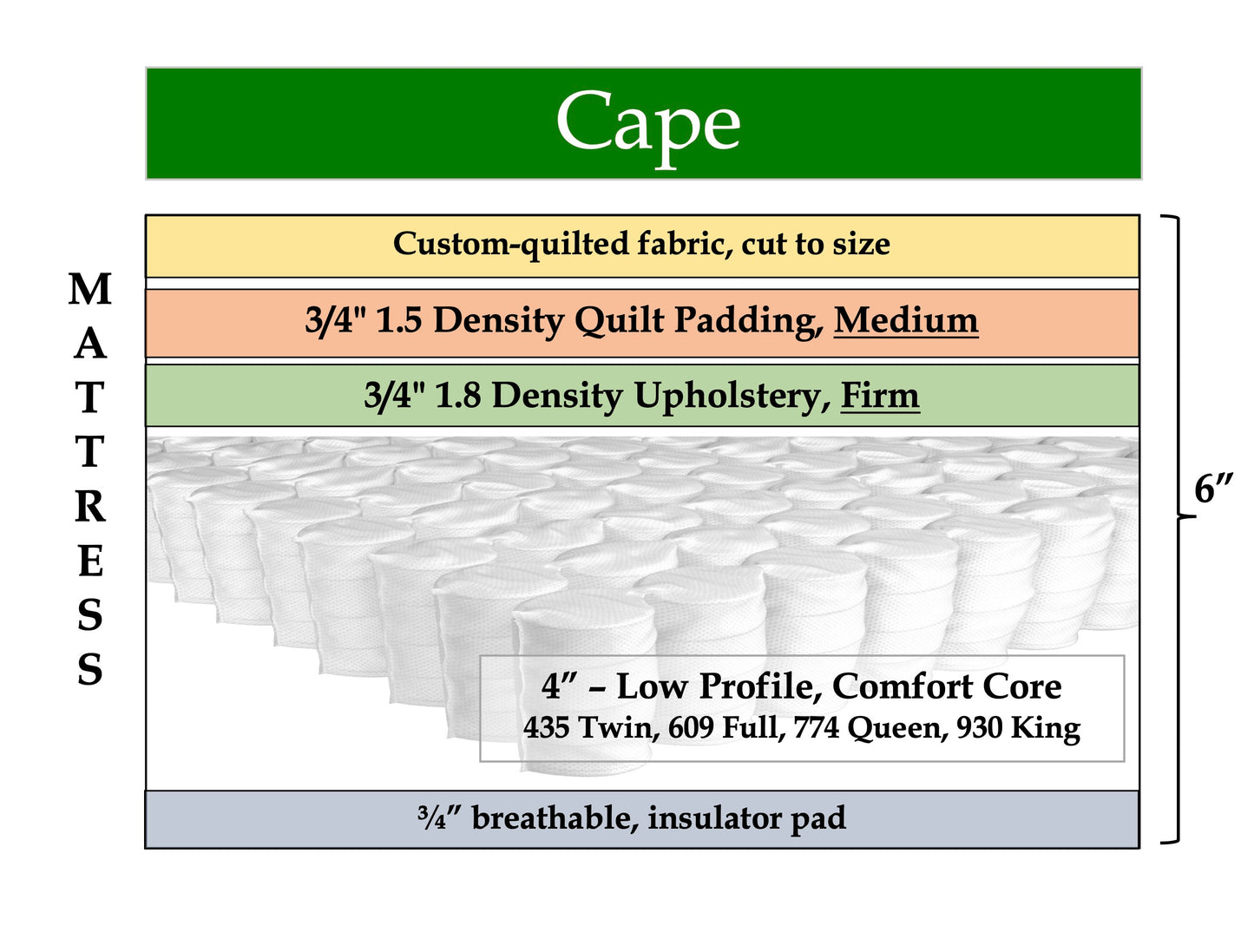 Super comfortable mattress
I needed to buy an extra thin mattress, and I am so happy to say this mattress is still extremely comfortable.
Perfect for Hotshot Trucking!
Made sleeping in the cramped pickup so much better! Worth every penny!
Custom Cape Mattress
My buying experience on-line was superior. All my questions and concerns were answered quickly and precise. Nick, the mattress maker, had so much patience dealing with me. My mattress arrived quickly, and the custom fit was perfect. Can see that care was taken in making my mattress as the workmanship shows. Very comfortable (had it made with firmer foam) and I cannot be a more happier sleeper.
Perfect
We wanted a comfortable low profile inner spring mattress with notched corners for our historic bedstead. Jake was so very helpful throughout the ordering process. The mattress is beautifully crafted and a perfect fit. It even arrived ahead of schedule!
Perfect match!
First contact with Nick, friendly, helpful, knowledgeable advisable !
Both of us found the perfect match for my French bed!
I got the big package, my mattress and after 3 hours ready to sleep on it
Comfortable, pleasant, relaxing with perfect sizes!
I recommend 100% this company if somebody has to order a mattress for not standard bed!
I love it
I had this Cape custom made to replace the original mattress on a 1960s Drexel day bed. It fits perfectly, and its so comfortable. Worth every penny, I could not be happier with it.
Great experience - perfect mattress for custom sized vintage bed
We were in a search for a new mattress for a "junior" bed that has been in my family for 60 years. I was cleaning up the bed for my grandson. After searching the web for options, I came across Custom Mattress Makers, who could provide us with a spring mattress as a reasonable price.
Nick was great in answering my questions promptly and the mattress was made within the timeframe promised.
The mattress fit perfected and is "meaty" - not flimsy at all. It seems like it will last a long time.